Maureen & Jimmy Stewart
in "Mr. Hobbs Takes a Vacation"
1962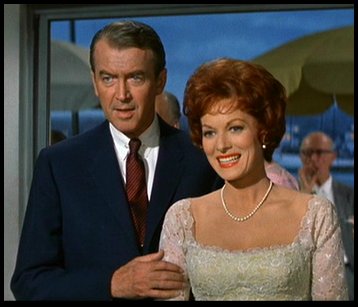 Mr. and Mrs. Hobbs
Jimmy Stewart was another of Maureen's favorite leading men in her film career.
When Maureen was honored by the Ireland Fund in 1991, Jimmy was among those
who gave her special tribute.


Getting settled in at the rather dubios beach front estate
The 1960's found Maureen in particularly great demand as a leading lady.
Stars like Jimmy Stewart, Duke Wayne and Brian Keith, et al., knew that
Maureen's presence on the screen with them would enhance their roles and her work ethics
and professionalism would make the production run smoothly. However, there were
a few male stars of her era who admittedly didn't feel they were up to sharing a frame of film
with the lovely Ms. O'Hara. They adored her, and were honest and forthright, but knew
that her compelling screen presence might upstage them a bit. Maureen respected that opinion
and did not take offense. Stars like Wayne, Keith, Quinn, Payne, and Stewart
could match her equally in sexuality and talent and were quite comfortable with her opposite
them in a film. This is evident when you see that this is the group with whom she made more than
one film. When the right script came along, the requested Maureen O'Hara.


That first night in the vacation home
This is a very amusing scene on the first night in their
anitquated vacation home by the sea. This old broken down home is described by Fred Hobbs
as something from "Dragonwick" as it loomed rather ominously before them.
However, in this scene they are vowing to make the best of it.


A kiss for hubby..."for being jealous"
This is their arrival home from their many adventures by the California sea
as they endured their rather challening lodgings and problems of their children.
Always one big happy family, and one wholesome wonderful family film.
---

Maureen and Jimmy in "Rare Breed"

This film from 1966 brings Maureen and Jimmy together again, as well as Brian Keith.
It's a western/love story/action movie that is based on the introduction of
the British Hereford specially bred cattle onto the Texas range.
Most enjoyable and again, as you can see from the photos above,
presents Maureen and Jimmy Stewart at their height of their careers.