Just A Little Bit of Ireland
(through the eyes of this tourist - and to think this is only a wee part of it all)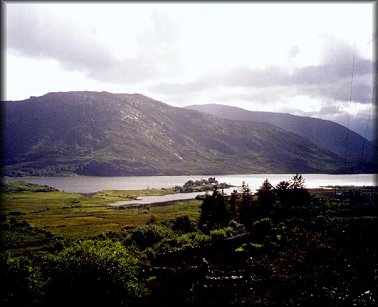 Ireland is such a small country. It is roughly the same size as the state of Maine in America (only shaped differently). It is at about 300 miles from north to south and 170 miles east to west. No point in Ireland is farther than 70 miles from one of its encircling waters: the Atlantic Ocean, the Irish Sea, and the St. George and North channels.

My first glimpse of Ireland was from the plane as we descended through the cloud banks into Dublin. I was glad I had a window seat because I had to see it to believe it. I'd dreamed of coming here for so long and I really couldn't believe it was actually happening. And there it was, the landscape of Irish countryside. Up until that moment I'd only seen it in pictures in books. By then I'd forgotten how stiff and sore I was from the 10 hour flight from Los Angeles.

"Wishing I could hear your voice again..knowing that I never will." Those lyrics from a song of "Phantom of the Opera" would have been most appropriate. My late sister Sue would have savored this moment. And as I look back now I realize I never even took a moment during those 3 weeks to spend some thoughtful moments alone, perhaps by a scenic spot by the water in Ireland to share with her memory and my dreams. There were so many things in reality looming. Getting the car rental; realizing that I would have to do all the driving, and then doing it...concentrating on keeping us on the left side of the road and those first days of total fatigue.

As a tourist I first had to get used to the idea that the route I was taking was going to offer splendorous scenery around every bend. The places you want to stop frequently do not provide a place to pull over, and sometimes when you do find a spot, there isn't room for you. However, when you do find a spot and see the tiny little farm houses nestled in valleys below, miles away, and the sun reflecting on the rocks on the hillside like little glistening diamonds, you realize you need to stop and drink this one in for awhile.

Even the rain feels good; and it rains frequently. But it's a mist and after a week or so your skin is as smooth as can be.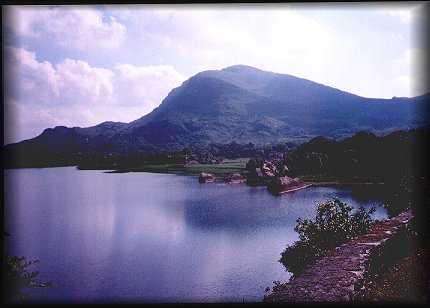 With scenes like these to relish and enjoy, the open road in Ireland is the place to be. The above is a scene I took on the way down toGlengarriff after leaving Killarney. We began our auto tour after our first night at a bed and breakfast in Limerick (just a short distance from the airport in Shannon). I won't tell you I had to go through 10 round-abouts (the European version of a solution to a pesky traffic light) before we finally found our bed and breakfast and it took us over 2 hours and 10 phone calls. LOL Those are the little bouts with the un-romantic side of it all. I did make a recording of an Irishman giving us directions that is priceless.

However, our first stop was actually at Foynes Airboat Museum where I finally got to meet Margaret O'Shaugnessy, the curator. I had spoken with her before on the phone when she was at Maureen's in New York. At the time of our arrival she was conducting a tour and later we sat down and chatted. The story of the founding of this museum is quite inspirational and a dream that Margaret pursued with great fervor. Few people even realize how passenger service began across the Atlantic, or that Maureen's late husband, General Blair was an integral part of that phenomenal history. Please visit the museum website for more details.

The Foynes Flying Boat Museum - Foynes, Co. Limerick

It was so hard to get used to the sun not setting until 11:00 PM; that's one thing no one told us ahead of time.

Had a nice visit in Glengarriff (my friend Lavonne took the ferry to Garnish Island, while I took a nap) and from there we Galway in the pouring rain and I wasn't exactly looking forward to taking on those mountain curves as we made our way to the "main road" in order to get to Galway more quickly and check in a day late to our apartment at Salthill there. We made it, however and continued on the nice straight roads to Galway; still pouring rain, but a bit more relaxed when we were out of the hilly part.

Once arriving in Galway I actually found my way to the Merlin Park area and found an excellent American Embassy - McDonald's clone of some kind. Everything was the same except the name. LOL From there I called Liam Bluett, and he helped us find our apartment and get our things unloaded - along with his charming daughters Katie and Fiona, and son Rory.

The apartment we rented for a week was in Salthill, a suburb of Galway. It was located about 2 blocks from the sea. From my kitchen window I could watch the people walking briskly along the sea walk every day. Our apartment was just around the bend at the end of the street of businesses and to the right.

In this Salthill location we had the advantage of stores right at hand and other needs; post office, restaurants, etc. Although we ate breakfast at home, we usually were out touring during the day and didn't use the kitchen as much as we'd have liked. Actually, there was a reason for that. LOL For me, European appliances take awhile to conquer. They look just like our appliances physically - the buttons, and numbers and all of that. Our apartment was very modern, fairly new and the stove boasted two ovens and 4 burners on top. Very impressive - but don't let appearance fool you. Is the lowest heat the lowest number? Maybe - we never found out. And the oven that has a fan that blows cold air...don't let that alarm you. It must be some convection thing or a new law of physics we missed. "Heat needs to be cooled." But we did find an oven that worked so I could bake my favorite "chips" or "french fries" to us Americans.

Many areas of downtown Galway were "pedestrian" designed or what we call a "mall." Lots of shops and restaurants; throngs of people. Liam took us to lunch at an elegant restaurant (one where Barbra Streisand had dined only months before). We were treated like royalty. The most special time in Galway was an evening meal at Liam's home near Galway Bay with his wife, Annette and children, Katie, Rory and Fiona. Annette is an instructor at a school of nutrition and hotel management. What more can I say? She had prepared an elegant cold dinner with salmon, shrimp, salad, potato salad and other succulent food I cannot now remember. It was presented elegantly and thoroughly enjoyed. Liam's children entertained after dinner with piano solos from Katie and Fiona and an accordian piece by the feisty little 11 year old Rory. A couple of months before going to Ireland I had occasion to phone Liam in Ireland and Rory answered. I said, "This is June Beck from the United States," and his response was a very mature, "Yes, I know, I can tell by your accent." LOL The day before our departure by train to Dublin, the last leg of our trip, Liam took us to the Cliffs of Moher. Although it was misting rain, it was beautiful and I will soon have photos of that visit.

The appliance that I looked forward to the most was the washer and dryer. Wait, I take that back...the "washer/dryer" combination. I've seen these in America so I wasn't intimidated in the least, and I LOVE to wash so I was ever so happy. It rained quite a bit during our stay in Galway so this machine would be a God-send, right? Wrong oh turtle breath! This slick, streamlined front-loading clothes-washing apparatus was just a tease. It would wash your clothes in a washing cycle that took no less than 1½ hours, (and we were being charged extra for electricity) but the finished product of the drying process produced limp, wet clothing with steam coming off them; very hot clothes. Unfortunately they were still wet. Since I am a washing freak this was rather disquieting for a time. However, I knew it was just a matter of what pilots call "stick time." I needed more first hand experience. So, in desperation I took my clothes up to the town business area and left them at a laundromat and for 5 pounds got them washed and dried. Better than all the anguish and excessive use of electricity. The traffic "round-abouts" notwithstanding, I was doing pretty darn well I thought. Adapting..just like the Marines do.

There really isn't any real culture shock in Ireland. For me it was just "appliance shock." The only thing that takes some getting used to is the wonderfully warm hospitable people. I had several friends in Ireland that I met on the Internet who took time from their busy lives and even their jobs to show us about. They went far beyond the norm to make our visit in Ireland a memorable one. Where do you find the words to thank people like this?. No gifts or lengthy speeches of appreciation can quite express my appreciation.

Dublin was a wonderful bustling city; not too big, and not too small. I took many pictures there, of course. However, they are all very typical and ones most of you have seen time and again. Trinity, St. Patrick's Church, and other historical landmarks. We had 3 full days there staying in a bed and breakfast in the suburb of Clontarf and taking the city bus into the city daily. Dublin is a busy, bustling city, full of tourists and shops. I personally preferred the solitude and beauty of the rural areas.

From Shannon, throughout the southwest and west coast and back to Dublin and then home to America. We saw some of the most moving, incredible sites of our lives. We visited with wonderful people and shared wonderful moments. Hey people...I stood at the railway station where John Wayne and Maureen O'Hara walked as a movie masterpiece was filmed. Never in my whole life did I ever think I would stand there. I think the impact of what I did and where I was is just hitting me now.

The best part? There were so many best parts! However, in Glengarriff, when I was about to leave and I gave Maureen a little hug and kiss on the cheek I felt that this moment was something more special than I could ever really completely realize. What had brought me here to this moment? I was in Ireland and bidding a fond good-bye to the motivater of it all. This legend of cinema, this icon of strength and femininity was right there beside me. Earlier she had diligently written on the map in absolute detail, our route to Galway - carefully illustrating how to get through the round-abouts. She had also signed photos for fans. Just as Angela Fox Dunn remembered waving good-bye to Maureen from the train she was taking the train to Dublin and Maureen motioning for her to "sit down" - I remember Maureen standing there in the rain, worried that we might slip and fall.

Maybe I'll return to Ireland, maybe I won't - only God knows that. But he also knows that I thank him for bringing me this far and even for the bumpy times along the way. There were lessons to be learned and times to endure, but I made it. No one can take away the memories or the wonderful friends I have made along the way. My fortune was not in money, but in all of these priceless treasures of caring and friendship. Because from the very beginning I truly believed. So maybe sister Sue was there with me all the while, helping me along. The souls and wonder of the Irish began for me in the eyes and talent of Maureen FitzSimons O'Hara Blair. I once wrote a piece "It's a Long Way To Dublin Town" - well, maybe it wasn't quite as far as I thought.

Never cease to dream - never.

June Parker Beck © 7-16-99


---
Our first stop in Ireland after a night in the B & B in Limerick, was actually the Foynes Airboat Museum. Had a lovely visit with the dynamic Margaret O'Shaugnessy, museum curator. Here I took many photos of the museum and the staff. Unfortunately, while changing film in the camera at a viewing area in the mountains later, I somehow lost the film. My only hope is that the film may have gotten mixed in with Lavonne's films; let's hope. However, not to worry. I can share with you a first cover stamp , a gift to me fromt Margaret. I was quite thrilled to receive it. Later this year we will be promoting her first Foynes Airboat Museum Millenium Calendar so you have that to look forward to.

Irish Aviation
Technical Details: Date of Issue: 24 February, 1998, Values and quantities: 28p, 32p (IM) 44p, 52p (.5m) Designer: Vincent Killowry, Stamp Size: 40.64mm x 29.8 mm, Colour: Multicolour, Make-Up: Sheets of 50 Perforations: 14 x 15, Printer: Irish Security Stamp Printing Ltd., Printing Process: Lithography

This is the first phase of an ongoing series commemorating various aspects of Irish Aviation history. This set concentrates on significant flights involving Irish airment, while later sets will feature civilian and military aviation.
Sophie Pierce (later Lady Mary Heath) had a varied and fascinating career. She was born in Newcastle West Co. Limerick and after emigrating to England became involved in athletics, setting a women's high jump world record and becoming Brisith javelin champion. In aviation she was also a record maker, the first woman to make a parachute jump, and the holder of two altitude records for light airplanes. Her flight from Captetown to London (28p) was only one of her memorable achievement.
Colonel James Fitzmaurice was probably the most important Irish aviator, and was one of the leading figures of his day in world aviation. He was born in Dublin, and joined the (British) Royal Flying Corps, later the RAF, and subsequently became Commanding Officer of the Irish Free State Flying Corps. His international reputation earned him a place in the flight of Bremen (32p) in 1928 along with Germans Kohl and Von Hunefeld, which was the first east-west translantic flight.
Capt. JP (Paddy) Saul went to sea at fifteen and gained his Master's Certificate in navigation before he was twenty. In 1917 he joined the Royal Flying corps. and in 1929 he joined the committee of the Irish Aero Club. In 1930 he was chosen to be the nagivator on the transatlantic stage of the round-the-world flight by the Australian Charles Kingsford Smith at the Southern Cross (44p). Later in his career he was involved in establishing Air Traffic Control at Rineanna and Foynes.
Charles F. Blair was an American airman who enjoyed a most distinguished career in American military aviation (reaching the rank of Brigadier General in USAF), masterminding developments in celestial navigation as well as commanding many important flights. He became firmly established as part of Irish aviation history by piloting flying boats fro Foynes, County Limerick, to New York, including the first non-stop transatlantic flight carrying passengers and mail (52p).
I found Margaret O'Shaughnessy, the museum curator and founder, to be one of the most energetic, dynamic individuals I have ever had the privilege of meeting. When she told me about this museum and how it began as just an idea/dream of hers - and how she made it happen - it is just incredible. Meanwhile I pray that lost roll of film turns up.

---
After Foynes we travelled to Tralee for our second B & B, and the next day were off to Dingle, which was quite lovely, and then down to Killarney. Killarney was a delightful town and we stayed a night there preparatory for our trip down to Glengarriff. The scenery was incredible. Then we arrived in the little vilage of Glengarriff and a visit with Maureen. We spent two days and nights in Glengarriff.


Some candid shots of Maureen at the Glengarriff Golf Club, on the
left, as Lady President and founder of the tournament, is presenting the lady golfer's plaques and on the right...No, no...she isn't singing...but explaining the misinterpretation of
the phrase "foggy foggy dew."

Meet our charming hostesses at the B & B in Glengarriff
Anne Marie on the left, and Maureen, owner of the B & B & Craft Centre
and friend to Maureen O'Hara. Her business is situation directly across the street from the ferry boat that takes tours to Garnish Island
Tel: 027-63201

---
When we first arrived in Shannon via Aer Lingus on the 21st, we were met by a friend , Liam Bluett who drove all the way from his home in Galway to see to it we were safely into our car rental and on the way to Limerick - just a short distance from Shannon, to our first bed and breakfast. We were indeed a sorry sight; lacking sleep and very upset over Lois' misfortune it is all pretty much a blur. Lavonne forgot her driver's license so I was the designated driver. LOL A combination of sleep deprivation, emotional turmoil, and just plain despair, I got behind the wheel of the wee little car and off we went. Thank God Liam was there as a support system.

Liam Bluett is a gentleman I have corresponded with for several years and whom I met through our mutual admiration of Ms. O'Hara. He is a financial manager with the multinational telecommunications company "Nortel" which has been one of the two biggest sponsors of the Galway Arts Festival. Liam is quite a film buff as well as his involvement in the festival. He took us on a tour of Nortel communications plant and the walls in his work area are adorned with autographed photos of many Hollywood stars he has met through his art festival work. (Had we been in Galway July 10th through the 25th, we could have attended this major festival - we left Ireland July 7th.) We rented an apartment at Salthill by the sea in Galway for the week of June 26th to July 3rd, so after our journey to Dingle and down to Glengarriff, we returned to Galway City and the apartment. While there Liam showed us about the city and also drove us to the Cliffs of Moher.

---
On July 3rd we left by train to Dublin. It was a pleasant journey, and I know that if I return to Ireland I'll try to take more train trips. We had actually 4 days in Dublin before our flight out on July 7th. We took a bed and breakfast in Clontarf, a suburb of Dublin and took the city bus into town each day for touring. If you love fish, Ireland is the place to be. I do, of course, and managed to have fish at least once a day during our visit. I was also very happy about getting tickets to "Dancing at Lughnasa." Being in the famed Abbey Theater was a treat within itself. It is a very small, intimate theater. Acting and set design were superb. I can see how an attempt at a movie of this Brian Friel play may have faltered. In cinema, too much would have to be added. In the play, "Michael" stands front stage right or left, and periodically narrates the background and pending scene on which he is reflecting his life as the illegitimate son of a young Irish woman who lives with her 4 single sisters. The players pose while he narrates and then proceed with the scene.

"No matter how cautious Kate Mundy is, she and her sisters are doomed to exclusion from the society of Ballybeg, because of their age, because they are women, because of their brother, because of their impulse to dance. Mary Robinson, when she was elected President in November 1990, invited us all to dance with her in Ireland. Remembering "Dancing at Lughnasa, her suggestion made all the sense in the world, as if, as Michael says in the play, "this ritual, this wordless ceremony, was now the way to speak.."
---