---
Cover Design by Danny Beck - see his website for art portfolio and résumé - Editor: June Parker Beck
F A N W E B S I T E
Since Ms. O'Hara's retirement, this website is no longer officially endorsed by her or her management.
It will continue to be maintained by myself, as one of her most devoted fans.
Maureen O'Hara Magazine is a copyright presentation.
Photos and text in any area of this website may not be copied in full or in part.
A Fan Website Devoted to the Career of Maureen O'Hara


The image of Maureen O'Hara began in Hollywood in 1939 in the classic film "Hunchback of Notre Dame"
and now embodies a career that has spanned over 60 years. Maureen's dynamic Irish beauty and persona of womanly strength
has made her a role model for women and produced a legacy of all-time classic films. Maureen O'Hara is still beautiful and
enjoying her retirement. More importantly, she is representative of all fine actors of her era. I have always joked that to
keep up with this energetic lady you need plenty of frequent flyer miles and twice the stamina.
Maureen O'Hara indeed remains a much needed heroine of "all" times - a gifted performer "then and now" -
a woman for all seasons - truly a Woman of the Century!"

---
PLEASE NOTE:
This website contains research information about Maureen O'Hara Blair about her life, career and family,

as well as hundreds of images. It was incorporated into this presentation over the past 17 years with the support and contributions of Ms. O'Hara, her brother Charles FitzSimons, her family, fellow actors, friends and fans.

If you scroll down you will find special features on special movies, TV appearances

, Gen. Charles Blair (her late husband) – his aviation accomplishments; photos of her family - her sisters and brothers from many decades

I have now created a Facebook Extension page which I encourage you to visit because it is updated almost daily with current happenings and allows you an opportunity to be more interactive . So if you're a Facebook member, drop in on us at:

Maureen-OHara-Magazine-on-Facebook-Site

Maureen with her nephew Charles FitzSimons (left) and grandson, Conor Beau FitzSimons
on May 26th at a huge FitzSimons heritage celebration in Kells -County Meath - Ireland.
Photo compliments of Elga Liliana FitzSimons.
This is Maureen at her happiest -
when surrounded by family.
---
The Irish Ameria Magazine has a new website and I am so pleased to be a part of this issue.
I have writen an article to raise awareness of the desire of fans and friends throughout the world to
encourage support for restoration of "The Quiet Man" cottage in Ireland.
Please click on logo above to read the article.


---

TV Guide has a complete listing of films and
schedules for cable and Network TV in the U.S.
(Always check your local listing for correct time zone}

---
THE DUKE AND HIS LADY

A walk down memory lane - 1976 - TV Fund Raiser Party
"Allstar Tribute to John Wayne" produced by the late Paul Keyes.
Maureen serenades Duke with "I've Grown Accustomed to Your Face"
Note: The clip is fuzzy, but we are lucky to have even this considering the technology back then.
(click on image below and white arrow at link for video clip of the event courtesy of "Romy")
Those of you who enjoy this clip may also enjoy my interview with the producer of the All Start Tribute -
Paul Keyes
.
It took place in 1993 and Paul was an absolute delight. He was good friends with Duke and Frank Sinatra and shared many great stories.
---
(These audio files will only play on a Windows Explorer browser - sorry)

- Note -

My sincere apologies for the lack of the usual background color on this page. I am now encountering problems with my website
composing program and server. I will be moving to a new server which will take several weeks, so I ask your patience at this time.
All information and links to most archival informational pages are still here and functional; If you need more current information
and are a member of Facebook, just do a search for Maureen O'Hara and you'll find the Facebook presentation.

Note - I am aware that there is a lot of scrolling on this feature page, but I ask your indulgence. Over 60 years of
information is difficult to consolidate in links that cover only the screen area as in a more sophisticated html format.
Just hope you have the time to keep on scrolling and enjoy the many features included on this page - the result of
Ms; O'Hara and her family's input and my 16 years of association and friendship with Ms O'Hara "herself."

As editor and webmaster of "Maureen O'Hara Magazine" I am happy to answer any questions you
have regarding the information published on this site. Questions from Studios, Networks, Writers, Magazines, etc.
must be directed to Ms. O'Hara's agent. Please email me at momagazine@gmail.com for that information.



Editor/Designer
since 1994

June Parker Beck

FYI: This site is a page
"It's a Long Way to Dublintownf"
listing the various videos, books and memorabilis I have acquired
in research over the years, and a little bit about my purpose in all of this.
This listing can also give you an idea of what is out there
that is enlightening about Ms. O'Hara's life and career.

---
Check out extensive interview on
RTE ten - the entertainment network
. It was a very emotional time for Maureen and for Ireland
as they celebrated the 60th Anniversary of the filming of "The Quiet Man"
the weekend of Aug. 26th in the village of Cong..

Check out Irish Times Article

---
F R O M O U R A R C H I V E S -
We have many interviews from TV Journalists and radio programs
but the one I treasure most was made possible by Karen Cooksley, from Texas
who came to Arizona to assist with her recording technology and computer savvy .
I just asked the questions. LOL

Topics: Name Preference; Lucille Ball, "Sentimental Journey," Gaelic Language,
"McLintock" stunts, Costumes, Howard Hughes, Vocal Technique, Duke, "Mogambo",
"McLintock Ending," et. al. We also have comments on her own website.
FYI: These audio files play only for those who use Windows Explorer as a browser.


If you want to read transcripts from two rare live on-line chats with Maureen I conducted with fans asking the questions,
click on these links: May 22, 1999 - October 2, 2003
---
---
Ireland's TV3
Great Interview 11-11-2010
on Ireland TV
Maureen's 90th Birthday - August 17, 2010
Maureen O'Hara celebrated her 90th Birthday, August 17, 2010
For more birthday related photos and interviews, please visit the "Links" page.


Another Birthday Celebration September 11, 2010
Glengarriff Golf Club



Photo MH Event Photography - Michael Hade
(Photographer Pat Bransfield)

- My latest article published in Irish America Magazine -
"The Many Faces of Maureen O'Hara"
Click logo above to read article on line




Maureen O'Hara's favorite soccer team. Her late father, Charles FitzSimons
was once part owner of this renown team and Maureen cheered them on! Maureen was very athletic
and had a dream of her father someday organizing a woman's soccer team so she could play



The New England Air Museum exhibts the VS-44 Flying Boat, "Queen of the Skies" restored in honor of Maureen's
beloved late husband, General Charles Blair.
You can order a DVD of Maureen's attendance at the dedication of this aircraft from their website.
It's quite a wonderful story and it's a magnificent seaplane.


---
NEW COLLECTOR'S ITEM
John Wayne Enterprises & John Wayne Cancer Foundation are
noew marketing a John Wayne Monopoly Game. Check it out on Amazon.


Please click above to purchase at Amazon
---
---
color="#330033">




The letter below is one that is very special to Maureen because it is from a co-worker.
His words mean a great deal to her. Thank you Mr. Peierson for sharing it with us.



Dear Maureen, I hope this letter gets to you. I don't know if you remember me but I will never forget you. I was the 1st assistant camera on both Christmas Box and Cab to Canada. Never before or since has an actress had such a great effect on my career in the motion picture business. I have now been in the film business for almost 30 years and truly the highlight of my career was working with you. To me you personify what Movie making is all about. Your professionalism, decor on set, treatment of all those around you is the finest example of the way Actors, Actresses and all crew should treat their approach to work. Your beauty and grace has touched my life. This type of genuine beauty is rare in today's world. I remember the times that I was able to meet with you in your trailer, to talk about your career as an actress, has etched an indelible memory in my mind. You made me feel a part of the history of movie making. I am truly grateful that I had the opportunity to work alongside one of the Greats of Hollywood. I wanted to say thank you for the Christmas cards that you sent to me and my family. In my entire career there has been only one other actor that has sent cards to the crew. I can't wait to buy your autobiography I just saw on your web site that you published it in 2004. I'm only 5 years behind, I always have been a little slow, Ha Ha. Thank you again for having been so kind to me when we worked together. You will always be in my heart and prayers.

Butch Pierson
---

Entter the Studio Days of Maureen O'Hara - Photos, Films, Excerpts from Old Fan Club Journals, Essays, Movie Pics, Maureen's testimony before congress for the Duke Wayne commemorative medal, BIOGRAPHY/FILMOGRAPHY and many other special features. Hear audio files of our exclusive current Interview with Ms. O'Hara presenting questions from fans in our message forum.
---
Scroll down for Favorite Films, Special Events, Family, All about Maureen and John Wayne,
audio files of Maureen answering questions from fans and Guest Book
(plus other categories of interest)
---
Features on Maureen O'Hara and John Wayne
Maureen & Duke
Take another look at the on screen chemistry of Maureen and Duke
"Give me a man like Duke Wayne!"
(
From the archives: A narrative magazine article
from the 1950's by Maureen on one of her favorite subjects - Duke Wayne)
"What Makes John Wayne Hollywood's Favorite Lover?" Another later article/ interview with Maureen about Duke - probably early 1970's

---
Maureen publishes her memoirs "Tis Herself" in 2004
as told to John Nicoletti, writer

(photo above taken during promotion at Macys in NYC)


You can still order paperback copies on Amazon - click above photo for link



Bryan Varnum, a long time visitor to this site has created a gallery of
paintings on "The Quiet Man" and does sell prints of his work. Click on photo above
to see them on his website..
---


Harry Carey, Jr. aka "Dobe" has been a respected friend of Maureen O'Hara for many years.
He appeared in "Rio Grande," "The Long Gray Line," and "Big Jake". You will enjoy his site which is also


gives you an opportunity to purchase his book "In the Company of Heroes." Special thanks to his wife,
Marilyn Carey who keeps us posted of events and happenings with them.



---
Great Book - A Must Read for Classic Film Buffs


(click on photo cover below to read Amazon reviews)




Jeanine Basinger, Professor of Film Studies at Wesleyan University, has authored several books on cinema. I have (and LOVE) "A Woman's View - How Hollywood Spoke to Women
1930-1960, published in 1993 in which she expounds on Maureen's ability to create an equality to her male co-stars without losing her femininity.
In Jeanine's latest book, "The Star Machine," I was delighted to see she again has a very accurate take on Maureen O'Hara. Following are her comments from an email to me:

" I was thrilled to hear from you because from childhood onward I have loved Maureen O'Hara. I am pleased you've liked what I've written because I think she is both totally fabulous and
underestimated...not that she's hurting for loyal fans or appreciation....but she should have even MORE than she has. She is a fine actress, a stunningly beautiful woman
(one of the most so in film history) a versatile performer and a real icon. As I say in my new book, many of the "legends" never appeared in as many films that are taught in colleges now
as O'Hara did. To my students she is better known (and more loved) than Davis, Crawford, Garbo or many others. I believe that history is turning her into the legend she really is, and making
a super star out of her! Just being in the John Ford movies...playing opposite Wayne as much as she did...or appearing in the annual showings of "Miracle on 34th Street" alone guarantees her legend.
And there's more. I have to stop here because I have to go to class, and could go on and
and on. Please tell Ms. O'Hara that I send all my regards, my deepest appreciation, and my admiration and respecst for her life, both profesionally and personally.

Jeanine Basinger

NOTE: All of the photos on this website are property of Maureen O'Hara Magazine
DO NOT COPY OR REPRODUCE images from any page I have designed
without first exending the courtesty of checking with me at momagazine@gmail.com


---
REMEMBERING

Maureen's sppearances on "Larry King Live"
Transcripts

October 28, 2000 - January 2, 2003
---
Maureen O'Hara Makes Immigration History
January 25, 1946


Maureen reminisces about her historic citizenship


Special Comments from Devoted Fans
We receive so many wonderful emails from fans all over the world. Now and again I receive one
that I feel is very special and it goes into my "favorite" letters area.
Hello from Canada: I have been watching Miss O'Hara's 90th birthday interview on Irish television and reading about this wonderful lady on your excellent website. I am totally amazed at how wonderful Miss O'Hara looks in her retirement and was surprised to learn that autographs are available and that you talk to her weekly.

I am NOT requesting an autograph or really anything else other than to ask if you would, in a conversation with Miss O'Hara, please add my name to the list of those around the world who love her and wish her so many, many more wonderful years.
She is truly an amazing woman. Would you please tell her that a gent, living now in New Brunswick, but originally frtom Nova Scotia....and with Irish heritage wants her to know how much he has always admired her, but never more than now. What a beautiful and amazing lady......God love you, Maureen...as do we.

Regars, - Bob Miller
| | |
| --- | --- |
| "Looking at the pix here, I can only conclude that such beauty is unearthly. Maureen must be an alien sent to us to show our potential. Simply scary!" | "When I first laid eyes on Maureen in "The Parent Trap" I really wasn't that affected - I just went into a trance that has lasted 37 years (so far). I assume that we children must have done something very special for God to have rewarded us with her. And even HE must have gazed at his own work in wonder!" |
| "Maureen O'Hara could have been my grandmother. I don't care. I still am in love with her. IMHO, the sexiest shot in motion picture history is her first scene in 'The Quiet Man' when she looks over her shoulder at John Wayne. I have to wear a bib whenever I see that film. | A long time fan, I'm delighted to find this beautiful site; it's great to see this profound role model celebrated appropriately, eloquently.!" |
| "Maureen....thanks for a life well lived. Thanks for every tear you made me cry, for every laugh you've made me laugh. You are simply wonderful!!! God Bless You." | "Never have I had the privilege of casting my eyes on an eternal beauty such as Maureen O'Hara. Graceful, passionate and elegant. How privileged indeed!" |
I came across this email from a fan in 1999 - It carries such wonderful sentiments. I wanted to share it with you.
"This may sound corny to some people but I will make it short. I left home when I was 16 and joined the Marines because of problems at home. At the time I never had a real mother or father so I picked myself one. I never told anyone until now and it has been over 40 years.
I never got a chance like this to tell the man who I picked as a father that I sure did thank him for being a good role model for a young boy and the many years of seeing him on the screen. Every time I was in a tight spot or was about to do something wrong, I looked to my adopted parents and asked myself if they would not like that or I would say a prayer to them to help me. The man was John Wayne.
Now I have a chance to tell the lady who I picked as my mother how much I love her (if I may use the word) but I do. I want to thank you for all the hours of enjoyment I have gotten from your films and all the joy of looking at your picture and thinking maybe my mother might have been a person like you. If only I had the words to tell you how I feel and how much I thank you. Thank you."
Please note: The website page you are on is the "cover" page. As you scroll down there are many links to pages I have designed pertaining to various areas of Ms. O'Hara's life and career. They have been 10 years in the making and Ms. O'Hara has contributed information to these pages. Enjoy!
---
---
2004/2005 Brings Special Honors for Maureen O'Hara
---
My Favorite Maureen O'Hara Movies
My favorite O'Hara films
(I have designed and edited all web page links except that of the Smithsonian Air Museum)
---

Our friend, Bryan Varnum is a gifted artist and focuses much of his talent on paintings
scenes from the movie "The Quiet Man." Bryan is having problems with his website server
and is temporarily unable to publish a link at this time. However, if you are interested in seeing
any more of his work, please email him at bvarnam@atmc.net.





---




The Retinitis Pigmentosa Foundation asked Maureen O'Hara to narrate "The Quiet Man"
for a screening in Los Angeles for the Theater for the Blind back in the early 1990s.
They have been kind enough to provide a copy of that film for her archives. We appreciate any and all support you
can give this organization.






---

Click on Photo above to view Biography and Awards
Biography-Filmography-List of Honors & Awards
Maureen O'Hara Over the Years - Off-Screen
---
Maureen O'Hara, a wonderful lyric soprano, appeared on may TV shows during the 50's, 60's and 70's - both singing and acting. Maureen received rave reviews for her dramatic performance in "Mrs. Miniver" in 1960, a David Suskind Production. If anyone out there knows of an existing copy of that TV Play...please let me know because Ms. O'Hara is longing to see it again.
---

Meeting youjg Charles FitzSimons for the first time in Los Angeles during Loopline Film documentary
interviews on June 29th, 2009 As many of you know, Charlie is the oldest son of Maureen's brother, the late Charles FitzSimons.
Although Charlie and I have corresponded and talked on the phone for years, this is the first occasion we had to meet.
We both enjoyed the absolutely delightful Loopline Film crew and looking forward to the release of their documentary
Dreaming the Quiet Man. The documentary has been featured at many film festivals in Ireland and at the NY Museum of Art.



Another FitzSimons - the original "Maureen" O'Hara Namesake (right))


Daughter of Charles FitzSimons, Maureen O'Hara's niece, and sister to young Charles FitzSimons.
I was privileged to meet not only young Maureen last year, but also brother Andrew, and their mother, Connie (far right).


---
Highlights andHappenings in Ms. O'Hara's Life and Career
- Click on underlined word (s) -


---

SPECIAL FEATURES BELOW
It is my hope that you will eventually read all the features listed below. Much research
and input from Ms. O'Hara is involved.
The Amazing FitzSimons Family - Read about and see rare photos of Maureen's classmates at
the Ena Mary Burke School of Elocution in the 1940's - with diary excerpts and photos of her brother,
Charles FitzSimons and sister, Margot.
Special Tribute to Charles FitzSimons
Behind the scenes of the NYC St. Patrick's Day Parade 1999
Maureen O'Hara's testimony before Congress May 21, 1979 for petition to cast a
commemorative medal honoring John Wayne.
Maureen O'Hara is honored by the British Film Institute 1993 with a coveted Fellowship
along with Clint Eastwood. (Read her acceptance speech)
"Panache You've either Got it or you Don't " - A delightful article by the late Angela Fox Dunn,
Hollywood Journalist.
Maureen is selected as Grand Marshal of the New York City St. Patrick's Day Parade 1999
A Blast from the Past - Letters and comments from fans during the 1960's


The High Cost of a Hollywood Kiss - Maureen O'Hara and Tyrone Power (see how "unromantic"
and "expensive" kissing for the camera was in the Studio Days.
The "real" Maureen O'Hara - Photos from the archives taken over the years of Maureen being herself.


Information on Maureen's brother Jimmy FitzSimons (James Lilburn)


(click on photo below to link to page)
(
Special Tribute to Maureen's late husband, Charles Blair.

The above photos are copyright of the publication "Stars and Stripes" and are not to be copied or published
without the express permission of "Stars and Stripes" in writing..

---
Letter from a fan:
"Dear. Ms. O'hara - I worked with Pan Am in the late 60's, based out of JFK. I will never forget
the first time I saw you coming into the crew lounge with Captain Blair. You were so extraordinarily beautiful, Captain Blair's smile said it all. As he introduced you, we were too mesmerized to speak. You were gracious and kind and I will forever remember you."
. Come with me to revisit my trip to Ireland in 1999. Great photos of "Quiet Man" film sites and other great moments in my journey. Ireland Journal Ireland Trip
The magic of Maureen O'Hara and John Wayne - One of the greatest on-screen teams in Hollywood
History.
"The Golden Girls" - My essay on the parallel of Katharine Hepburn and Maureen O'Hara.
Photos from the National Air Museum of the Smithsonian taken by Joan Stringham and featuring
the P.51c flown by Blair on his record breaking flight of the first pilot to solo over the North Pole.
Special Recognition To A Very Special Maureen O'Hara Meet Bill Greehy
My first meeting with Maureen in 1995 (photo signed in 1997) at the Burbank Airport.
Son Danny on the left, myself, Maureen, and Maureen's brother, Charles FitzSimons.
---

Special Comments from Special Fans
"Looking at the pix here, I can only conclude that such beauty is unearthly. Maureen must be an alien, sent here to show us our potential. Simply Scary."


---


"When I first laid eyes on Maureen in "The Parent Trap," I really wasn't that affected - I just went into a trance that has lasted 37 years (so far). I assume that we children must have done something very special for God to have rewarded us with her. And even HE must have gazed at his own work in wonder!"


---


"A long-time fan, I'm delighted to find this beautiful site; it's great to see this profound role model celebrated appropriately, eloquently.!"


---


"Maureen O'Hara could have been my grandmother. I don't care. I still am in love with her. IMHO, the sexiest shot in motion picture history is her first scene in THE QUIET MAN when she looks over her shoulder at John Wayne. I have to wear a bib whenever I see that film."


---


"Never have I had the privilege of casting my eyes on an eternal beauty such as Maureen O'Hara. Graceful, passionate, and elegant. How privileged indeed!"


---


"....Maureen, thanks for a life well lived...Thanks for every tear you made me cry, for every laugh you've made me laugh. You are simply wonderful!!!! God Bless You.


---


I watched a televised Arts and Entertainment biography of Maureen a couple of nights ago. Although I have never written a "fan letter" before, I decided that age 44 was not too old to start, so here I am. As I watched the Biography special I felt such respect for Maureen's strong sense of values and empathized as she dealt with some difficult losses. I think that Maureen represents the best of us humans - strong, principled, bright, and caring. The fact that she was and is still absolutely beautiful is yet another gift. If Ireland had a Queen, it would be Maureen O'Hara. Thank you for entertaining us and being a wonderful role model at the same
time.

---


Check out the "Letters Hall of Fame" for other special comments from
Maureen's fans. I consider all letters "special" because any fan who takes the time to write falls into that category.

---


Some of My Family Photos - then....and now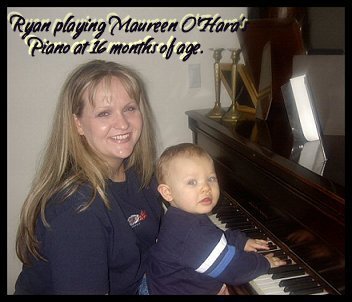 Meet my daughter, Jennifer's youngest, "Lil' Phil" on his 1st Birthday


My grandchildren, Lil ' Phil, Briana, Rachel, and Ryan

---
Danny is my #4 son, and the artist in the family. Danny is expert in cartoon character design and works for Blizzard (computer game designer)
---

Remembering my sister Sue Carol Parker Conner,
sister Doris Ann Parker Young
and my Mother, Ann Marie Parker
Note - the tinting in the photo above was actually done by the Kodak lab - in the 1940's -
My sister Sue - (right) is holding a tiny sparrow
---

momagazine@gmail.com